Whether you love a refreshing iced coffee, a rich cappuccino, or a vibrant shot of espresso, there's nothing like freshly ground coffee. For that, you'll need a reliable coffee grinder.
We've all reached for instant coffee in a hurry or bought a bag of pre-ground beans. But like freshly sliced crusty bread or a pot of brewed tea, there's something unique and evocative about doing it yourself. So, take the time to grind the beans before brewing your rich morning coffee. The taste is better too! Whole beans retain their flavour for longer. But once ground, the flavour fades – the foil bags only slow the inevitable. Therefore, blitzing beans moments before brewing guarantees the most delicious and delightful cup.
In this guide, we run through our recommendations for the best coffee grinders on the market, as well as our top tips on what to look out for when finding the perfect grinder for you.
Discover the best coffee grinder for your needs:

Jump to...
What is the best budget coffee grinder?
1. SHARDOR Electric Burr Coffee Grinder
The best of the bunch. With a sleek black design, SHARDOR's electric burr grinder combines style withsubstance. There are a versatile 16 grinding settings from a fine grind for a pour-over or a coarse chop for a French press. Beans are stored up top. Turn the knob for your setting, press the button, and thanks to a stainless steel conical burr mechanism, it can quickly grind between 2-14 cups of ground coffee will tumble into the tray. What's not to like?
2. KRUPS GX550850 Precision Grinder
Do you prefer your coffee small but mighty? Do you start your mornings with a bit of a hit of espresso? If so, the KRUPS GX550850 is the budget espresso grinder for you. Using flat burrs, a small quantity of beans is milled – enough for 12 cups of ground coffee. Despite its small size, the grinder has 33 possible adjustments, including an option for quantity. So, you can grind cup by cup for the freshest brews.
Pair with our delicious House Espresso Beans, fresh from Brazil.
3. KRUPS 3oz Coffee Mill
Like a finely brewed ristretto, Krups have distilled the grinder down to its essentials. With elegant simplicity, you load up the drum, press the button, and then scoop. The twin stainless steel blades and 180W motor effortlessly grinds any bean. Adjust the time for differing coarseness. Plus, it's small, light and portable. So, if you're going on holiday, pop in your case. Or at home, it fits neatly in the cupboard. No more sideboard clutter!
Little wonder that after over 45,000 reviews on Amazon, it sports a remarkable 4.6 out of 5-star rating.
4. SHARDOR Electric Blade Coffee Grinder
Portable and powerful. In 10 short seconds, the 150W motor and 304 high-quality stainless-steel blades will turn whole beans into finely ground coffee. It's neat; it's tidy. It'll also work brilliantly with herbs and spices. Just keep it dry. The downside is the moderate capacity: storing only 1.4oz (40g) of beans per grind. The SHARDOR Electric Blade Coffee Grinder is one to keep in mind as it's effective and cheap.
What is the best coffee grinder for home use?
1. Cuisinart DBM-8 Supreme Grind
The small package, good things come in. Compact and attractive. At only 10.7 inches tall and 6 inches wide, it'll fit snugly into any kitchen. But it's functional, too: holding up to 32 cups of ground coffee at the mere push of a button. Adjust the twisting dial to set your coarseness: it's that simple.
Top tip: If you're in the UK, importing from the US can be cheaper than buying from UK suppliers.
2. James Martin by Wahl Grind & Chop
James Martin is a household name. You'll remember him from serving up delicious dishes during the weekend mornings. Here, he brings his culinary excellence to the world of kitchen gadgets. At first impression, the crisp stainless-steel design is stunning. Whether your kitchen is rustic and wooden or sleek vinyl cupboards, it'll sit stylishly on your countertop.
Nor is it restricted to coffee beans. You can use this grinder for veg, garlic, chillies, and more. By day it's a coffee grinder; by night, a curry paste sensation.
3. De'Longhi KG79 Coffee Grinder
No-fuss or complex options. With a user-friendly dial, you can select from 17 grinding levels. The design is boxy but stylish. Like a penthouse apartment, the bean store peeks out the top, holding up to 120 grams of beans. The mill will also automatically stop once the tank is full – around 12 cups.
What is the best manual coffee grinder?
1. Maison & White Manual Coffee Bean Grinder
Does all that grind hurt your ears? Fancy taking the Do-It-Yourself approach to the next level. It doesn't come much more handcrafted than self-ground beans. Here, Maison & White have created a beautiful and simplistic manual coffee grinder.
Like an oversized pepper mill, fill the top with coffee beans, close the lid, and turn the ergonomic handle. Then, when you're finished, clean-up is easy. The pieces readily dismantle so that you can wash them in the sink. It also has an adjustable mechanism for coffee coarseness.
Try it out with Presto's delectable bean selection.
2. MMLANT Manual Turkish Coffee Grinder
In polished stainless steel, it's another beautiful grinder. However, unlike other manual grinders, it has 18 click settings for precision coarseness control. The ceramic burrs produce a perfectly even ground, comparable to the most advanced electric machines. Whether you're at home, camping, or in a cottage by the sea, the MMLANT grinder is easy to bring along. So, you can enjoy a freshly brewed cup, no matter your location.
3. Hantehon Manual Vintage Coffee Grinder
Here is a coffee grinder for the ages. That age being sometime around 1895. It evokes a Victorian-era coffee shop in stunning wood, with a cute tray to collect the ground. Perfect for a gift or an office decoration.
What's the difference between a burr or a blade coffee grinder?

To burr or not to burr. That is the question.
Blade grinders use one or more blades that rotate rapidly, slicing the beans into a fine powder. Burr grinders, on the other hand, involve two revolving abrasive surfaces, between which the beans are ground.
Well, blade grinders are less expensive, but they often produce a more uneven grind. Burr grinders – by design – evenly grind the beans. If you ask your local craft coffee shop, they'll recommend burr grinders.
But for most coffee lovers, either works well. If you are using a blade grinder, pulse the beans. It'll give a more uniform ground.
Grinding your coffee is the only way of ensuring you drink the freshest cup of coffee. Coffee grinders are affordable, and the two most common ones are blade and burr grinders. If you've been thinking of buying a grinder, you need to know the difference between these two grinders to choose the one that suits your needs.
There's a considerable difference between burr grinders and a blade grinder. Blade grinders are more like a blender; they have rotating blades that slice the coffee into grounds. On the other hand, burr grinders consist of two revolving burrs; the coffee beans are then crushed between the moving grinder wheel and a non-moving surface.
The quietest blade grinder
The KRUPS GX336D50 Ultimate Super Silent Grinder is the quietest blade grinder and provides excellent value for money. Blade grinders are rarely quiet, but this specific grinder is designed to be the quietest blade grinder amongst other blade grinders. Although small in size, this grinder does a wonderful job in fine grinding coffee; the powerful yet silent vortex spin technology will grind up to 10 cups of coffee in a matter of few seconds. The grind settings will as help you have the type of coffee you want.
The quietest burr grinder
PORLEX JP-30 manual burr coffee grinder is the quietest burr grinder. You can purchase it on amazon at just $62.06. The grinder performs well, and the design is excellent too. It consists of inner springs that will keep the grind consistent even when dealing with coarse brewing. If you've been looking for an excellent and quiet burr blinder, then you should consider this manual grinder that will give you the best results in brewing your coffee.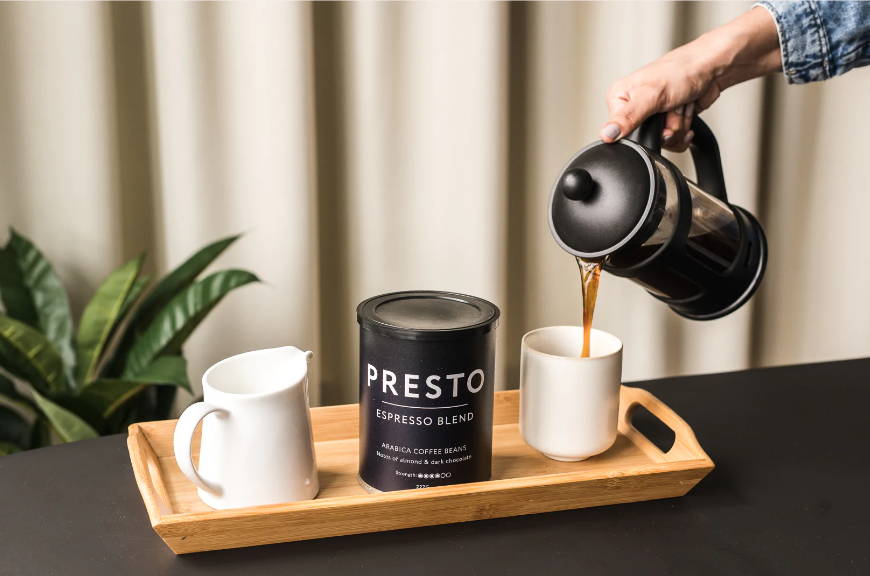 ---
What should I look for in a coffee grinder?
Genuine freshness is an essential part of a perfect cup of coffee, and to achieve this; you need to grind the coffee yourself before brewing it. There are several coffee grinders available in our markets today, and choosing the best can be a daunting task. You will be presented with two types of grinders in your quest of finding the best coffee grinder – Blade and burr grinders. However, there are things you need to consider when choosing the best coffee grinder; these include:
1. Particle size and consistency
This is the most important thing to look for when buying a grinder because for you to enjoy your coffee fully, you need to grind the beans to be fine and consistent in size.
2. Cost
If you're looking for the best coffee grinder, then be willing to spend more. Good coffee grinders that deliver the best results are not cheap.
3. Speed
Don't look for a grinder with high-speed motors as it will produce too much heat and burn your coffee, making you not enjoy the flavour and aroma of your coffee. Burr coffee grinders are usually the ones that perform best when it comes to the right speed. The grind settings will allow you to choose how you want your coffee grounds to be.
4. Heat
As mentioned above, a good grinder should not be too fast because it will produce too much heat and burn your coffee.
5. Ease of use and cleaning
A good grinder should be easy to use.
6. Noise
If you're an individual who is sensitive to noise, then you need to look for the quietest grinder available in the markets
---
How much does a good coffee grinder cost?

Are cheap coffee grinders worth it?
Best coffee grinders are usually expensive, but there are a few cheap grinders in the markets capable of producing consistent grind. It might take a few more minutes to use these grinders to make the coffee fine, but it will still be fine as it is supposed to be.
What is the best inexpensive grinder?
Several inexpensive coffee grinders will help you have the best coffee you need. As mentioned above, the best affordable coffee grinder is the Sage smart grinder pro. The grind settings of this coffee grinder are good, and most importantly, the whole machine provides excellent value for money.
What is the best coffee grinder for home use?
The overall best coffee grinder for home use is the Baratza Encore conical burr coffee Grinder costing $120 on amazon. This provides excellent value for money and has been on the market since 2012, but still, it stands out. Its grind consistency makes it a great little workhorse for your home espresso, drip, or French Press coffee setup. This conical burr grinder is easy to operate and durable as well.
What is the best manual coffee grinder?
The overall best manual grinder is the 1ZPRESSO JX, 48 MM STEEL BURR GRINDER, under $130 on amazon. Using this grinder is pretty easy and straightforward; you'll be able to grind 25 grams of coffee in about 35 seconds.
What grinder does Starbucks use?
Starbucks uses an automatic machine called Mastrena for grinding coffee. The brand was developed specifically for Starbucks by a company called Thermoplan AG, located in Swiss. The device has built-in grinders that make the espresso-making process easy and fast.
Best coffee grinder for espresso
According to bustle.com, the best overall coffee grinder for espresso is the Breville Smart Grinder pro, available on Amazon at just $199.95. This grinder is very easy to use and versatile. It consists of 60 grind settings to grind both fine espresso and coarse French grind. With this intelligent grinder pro, you will achieve whatever results you're looking for from a grinder.
Can you use a regular coffee grinder for espresso?
Yes. This is because most coffee beans are either Arabica or Robusta, and espresso is from either of the two. Espresso is coffee beans that have been roasted more than others; they need to be ground finer and brewed in an espresso machine, but that does not mean a regular machine cannot do the job; it will just not produce the best results as the espresso machine does.
How do I grind coffee without an espresso grinder?
Some people resort to using a blender to grind coffee when they don't have grinders. All you need to do with this option is to add your coffee beans into the blender, turn it on and then allow it to do its work for a few minutes. It may take a few minutes to have a fine grind, but it will be okay to use the actual coffee grinder.
---