PRESTO COFFEE SUBSCRIPTION
Presto subscribers are treated to 30% off their first order and free delivery on every order.
Our coffee is delivered directly from our roastery to make sure your coffee is always at peak freshness. Subscribe and start saving quicker than you can say stick the kettle on!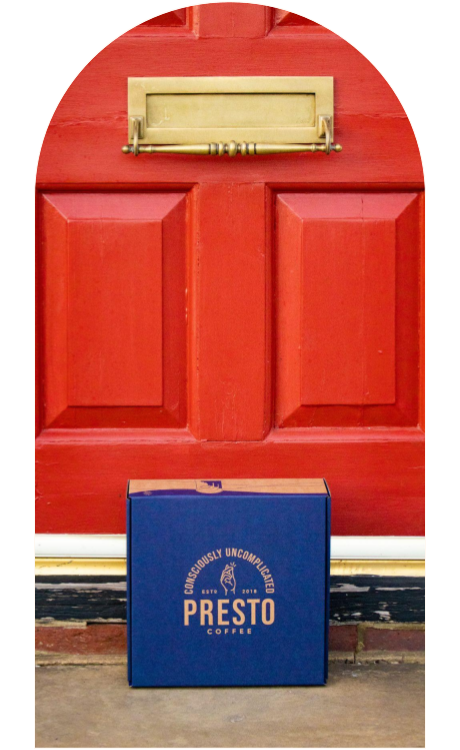 Freshly roasted coffee delivered to your doorstep on cue.
Say no to stale coffee and get the entire Presto range delivered to your door with our ethical coffee subscription. Keep whose-turn-is-it-to-get-the-coffee arguments to a minimum in the office, the flat whites (and latte art attempts) flowing at home, or a fellow coffee lover happy with a gifted subscription.
GET STARTED
FLEXIBLE TIMINGS

FREE DELIVERY

CANCEL ANYTIME

FRESHLY ROASTED

FREQUENTLY ASKED QUESTIONS
How do I create a coffee subscription?

Tap the Get Started button above and select your coffee. Then in a few simple steps pick your quantity, size and how often you would like your coffee delivered. Free delivery is automatically applied at checkout and if you haven't subscribed before then 30% off your order will automatically be applied too!
Can I change my delivery frequency or skip an order?

Absolutely. You can choose to have your coffee delivered as little or as often as you like. Got a healthy stash going? Simply log in to your account and choose to skip a delivery. You won't be charged anything extra.
Is Presto's coffee subscription sustainable?

We are proud to be a certified B Corp business, and as a company we're always striving to raise the bar in coffee standards, meaning fair deals for farmers, cleaner roasting technology, and giving back to local communities. We are morally and legally committed to prioritising our responsibility to the environment and society we operate in.
Am I locked in with a coffee subscription?

Not at all. You can always skip a week when you're away, or cancel for free anytime if you change your mind. With how good our coffees taste, we don't think that's very likely though... In case of issues or questions, get in touch with us via email at support@prestocoffeeroasters.com.
Is a coffee subscription worth it?

Yes! Subscribing to Presto Coffee will guarantee you never have to order coffee again, saving you time and money with free delivery on all subscription orders.
What is the best frequency for a coffee subscription?

With a Presto coffee subscription, you can opt for a totally personalised frequency plan, so whether you want a weekly, fortnightly, or monthly coffee subscription, you can change this at any time. To help you decide which coffee subscription plan is best for you, our simple ordering portal shows you approximately how many cups of coffee each of our products provide, so you can easily work out how often you'd need your coffee subscription delivered.
How do I cancel a subscription?

Well, we hope it doesn't come to that. If anything's not up to scratch with your subscription, we're all ears. The good thing about being a small business is that we can make changes pretty quickly. So we suggest speaking to us first to see if there's anything we can do. Just email support@prestocoffeeroasters.com or send us a message on social media. We'd love to chat.

And remember, you can always change your delivery frequency or skip an order if you've got enough coffee for now.

To cancel your subscription (sad face), just log into your account and select 'cancel'. You can cancel at any time, for no extra charge. And while we'll be sorry to see you go, we can't thank you enough for giving Presto a try.
How long do I have to have a subscription for?

For however long you want to keep drinking delicious coffee. Joking aside, our subscriptions are totally flexible. You can skip a delivery, switch up your coffee beans, change the quantity, or even cancel your subscription for no extra charge, whenever you want. (Don't do that last one though—please get in touch if something could be better!)